Many of today's success stories, begin with an idea. Stormpromax has a unique history all of our own. Through our experience we have developed a highly recognized compliance tracking system.
A few of the Industries Stormpromax Supports:
BMP Inspectors & Installers
Engineers
Consent Decree compliance
Port Authorities
click here

Fieldpro is a portable solution. Simply sync your Stormpromax solution to your laptop and go, taking all of your valuable information, documents, photographs, permits and other necessary information with you.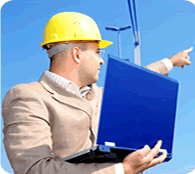 Fieldpro is a portable solution with or without an Internet Connection
Simply re-sync the system when you return to your office, eliminating the need to enter data upon your return.
click here